ABOUT STORM FITNESS ACADEMY
About Storm Fitness Academy
At Storm Fitness Academy Ltd we care about your future and educational needs, and our tutors are not only experts in health and fitness but are also active in the fitness field. With our combined skills, knowledge and experience, we know exactly what you need to be successful in the industry, and maximise your earning potential.
Whether you are someone looking to start a career as a fitness instructor or already working in the leisure industry and wanting to develop your skills, we will give you the qualifications and the know how to become a very successful trainer.
In fact even if you aren't thinking about a career change but you would like to learn more about how you can meet your own health and fitness goals, then our courses are for you.
Read more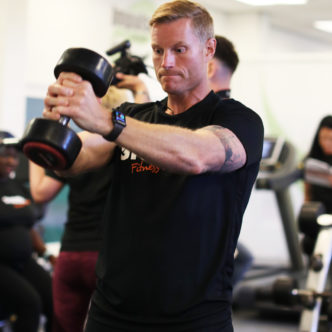 Jon Bond BSc (Hons), PGCE, QTS
Founder and Fitness Director
About Jon
My number one passion is exercise and physical activity. In 2012, I founded Storm Fitness Academy Ltd so I could share my passion with other fitness enthusiasts. When I qualified as a PT in 1999 I was full of enthusiasm but I didn't really know what to do next. There wasn't any post-graduate support. I had to figure everything out for myself which meant I made loads of mistakes and my progress in the industry was very slow. Although my CV looks good I can assure you it has been no easy ride and I believe it would have been so much easier if I had been part of a community with a coach to help guide me along the way.
Where my journey began
I started working in the sport and fitness industry in 1996 as a tennis coach. I then went on to teach group exercise and one to one personal training. In 2005, I qualified as an assessor and began tutoring and assessing fitness qualifications whilst working as a personal trainer.
My passion for exercise and physical activity continued to grow so I decided to return to university to learn as much as I could. After graduating in 2008 with a Sports Science Honors degree I worked as a sport scientist for Brighton & Hove Albion Football Club. This was an awesome experience and I learned so much from the research I did whilst working with the club, however, my interests leaned towards helping the non-athlete use exercise to enrich their life both physically, and mentally.
In 2010 I went on to cofound Storm Ultimate Fitness, which provided one to one, and group training sessions for the local community. I still worked as a freelance tutor and assessor and particularly enjoyed the teaching aspect and helping others become fitness professionals by passing on what I had learned from my years of experience.
Later in 2012, I founded Storm Fitness Academy Ltd. My mission was to help fitness enthusiasts become fitness professionals by providing expert teaching with a much more personalised approach, along with the much needed post-graduate support.
Why join my academy?
Nobody is ever truly self-made. We all get by in life and achieve our goals with the help of our support network. Friendly, supportive, and loving connections with others help us to realise our true potential and become the person we want to be, the best version of ourselves. I believe we can all unleash our potential if we have a coach and a community. I would love to be your coach and make Storm Fitness Academy your community 🙏.
CONTACT US TODAY
Here at Storm Fitness Academy Ltd, we love to chat about health and fitness. If you would like some friendly advice then leave your contact details below and we will be in touch very soon.